Electronic Skin Patches
cosmetics
Today, there is a global and extended use of electronic patches that are worn attached to the skin and help the management and monitoring of diabetes and cardiovascular diseases. There are other applications where the use of electronic skin patches is emerging such as the Drug and Cosmetic Delivery patches, Medical Patient monitoring and Electrical Stimulation devices. 
New technologies are helping to make wearable skin patches less bulky and more comfortable, which is boosting the release of new generations of existing patches as well as new applications.
At Fuelium, we've developed flexible and conformal laminated batteries that offer a unique combination of high power-density and sustainability. This enables the use of high power demanding applications, the miniaturisation of  the skin patch and to minimise the impact on to the environment. 
The Fuelium laminated battery can be integrated in the patch by using the same or equivalent base material than the patch.  
1.

Drug and Cosmetic Delivery patches/masks
Iontophoretic patches allow to increase the efficiency of drugs and/or cosmeceuticals release into the skin. Iontophoretic transdermal delivery uses a small electric current to push charged molecules into the skin.
Many patches use primary coin cell batteries to generate iontophoretic current, which is an oversized and unsustainable power solution for this kind of disposable and single use applications. Fuelium laminated batteries allow a more packed and integrated solution, with adjusted power supply and facilitating the product disposability after its use.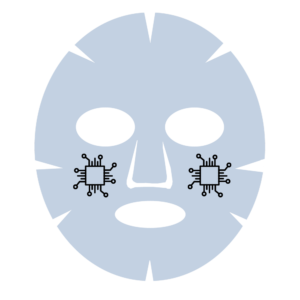 Fuelium is already marketing laminated batteries for the use in Micro-current sheet face masks for Cosmetic applications. 
2.

Medical patient monitoring
Wearable patches are disposable and single use patches intended for sensing measuring, and monitoring biochemical (e.g., glucose, lactate, conductivity) and physiological parameters (e.g., blood pressure, heart rate). They can be used to monitor different parameters during sport activities or for the control and surveillance of different medical conditions.
Fuelium batteries are a sustainable, compact, and adjusted power source option for these types of patches, compared to standard coin cell batteries.
3.

Electrical stimulation devices