IoT and Smart Sensors
IoT
Internet-of-Things (IoT) is revolutionizing the way smart sensors are capable of sensing, diagnosing, deciding, and actuating in a communicative and collaborative way, leading society towards a digitalized new era. IoT solutions are applied in multiple sectors such as environmental monitoring, precision agriculture, smart packaging, smart home, and wearables, among others. 
The use of these solutions is increasing, and it is expected that in 2025 there will be around 25 billion IoT devices. Energy autonomy of IoT smart sensing systems is a key enabling feature of this digital scenario. However, it is unclear whether the energy needs of billions of these IoT devices are to be satisfied with current battery technologies since they can compromise the availability of lithium and other key battery materials.
IoT self-powered devices based on customized Fuelium batteries are sustainable solutions, adjusted to the application power demand and conceived for the specific life cycle of the final product, with special consideration with the product end of life.
1.

Fire alarm detector
The Internet-of-Things (IoT) entails the deployment of a wide network of wireless nodes continuously consuming energy to monitor their surroundings. Contrarily to the current IoT paradigm, ECOTAGS consumes zero power until an alarming event takes place, as it takes advantage of the phase transition of a material to monitor a relevant physical event. A fire-detecting prototype has been developed as a demonstrator of this new concept. ECOTAGS reacts to a temperature rise by using a material that triggers the activation of a single use paper-battery, whose power is used to send a wireless alarm signal to a remote receiver.
Fuelium powered-sensored Fire alarm detector.
2.

Environmental monitoring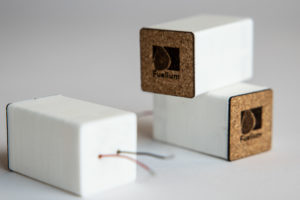 3D Fuelium battery designed to be integrated in an Environmental monitoring Device. This Eco-battery is non-liquid activated that enables both sensing and connectivity functionalities and lasts for at least three weeks.